Payoneer is the best alternative to Paypal if you are living in Pakistan. In this article, I am going to show you How to apply for Payoneer Card anywhere in the World. Although Payoneer is worldwide and you can use Payoneer services in more than countries. It was first launched in the US only and then expanded their company to the world. They came to Pakistan after seeing the big online market and constantly increase online transactions. After coming to Pakistan, users are able to withdraw their funds by using their provided Master Card and now users can even withdraw their money to their local bank. Which is the awesome step taken by Payoneer, Before this, Payoneer master card holders could only withdraw money from selected ATMs in Pakistan. However, the bank withdrawal is still limited to $200 per withdrawal but still, it made very easy for Pakistani freelancers.
If you don't have a Payoneer card yet then click he
How to Signup for Payoneer Master Card from Pakistan?
In order to order a Master Card from Payoneer by your name. You need to follow the following steps and complete these forms and submit your application to Payoneer team. They will review and send your card to your home address that you will provide. The great thing about Payoneer is they don't charge a penny for applying and sending Master card to your house doors. Until you receive the card and start getting depositing money on your card. Then they will charge only 25$ for the card activation.
Signup for Payoneer Master Card by clicking here
STEP -1
Getting Started:
Select Individual Type if you are going to use this master card for your personal use if you are a freelancer and online independently. Otherwise, you need to choose "Company" if you own a company and want to use this master card for your company or business.
Fill out First Name, Last Name, an Email address where you will receive your Payoneer activation email and all Payoneer payment details and then the select date of birth according to your CNIC card date.
STEP -2
Contact Details:
You need to provide the correct information in here. Select the country where you live and then write the correct Street address which means you need to write a complete address in 2 fields. This address is the address where they will ship your master card. Write down your current city and postal code. Write down the mobile number that you use personally. Because on that phone number they will call you for any inquiries. Moreover, if card got delayed they will call you on that number for confirming your shipping address.
Step -3
Security Details:
Next is to provide your username and pick the strong password for your Payoneer login. By using this credentials you will be able to login to your Payoneer account to check your balance. Withdraw your amount and do stuff in here. And then select a security question for your account. Which helps Payoneer to make your account more secure.
Step -4
Almost done:
The first thing you need to choose is the type of government document that you will provide to Payoneer. If you choose National Id from the drop down menu. In the next field right underneath it.
You need to provide your name. That name will appear on the card.
After that, you need to provide your government national identity number. This is the most important part of the form. You need to be super attentive adding your government identity card number in here. If you live in Pakistan like I do. You need to provide the CNIC number.
Next is to select the country from where you belong and your government identity card belongs.
Now click on SUBMIT button and you are done!
After that, you will land on the following page.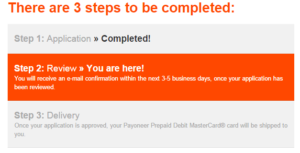 Your application request will be sent to Payoneer team and after verification, they will send you master card right at your shipping address.
You will receive your card within 7 to 15 business days. And mostly it came within a week.
GOOD LUCK!